A Traveling Alternative: The Conversion Van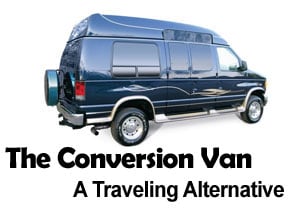 While the
conversion van
has been around for a long time, as of late the vehicle continues to grow as a fan-favorite when it comes to a traveling alternative.
So what exactly is about these traveling luxury caravans which continues to mesmorize travelers you ask?
Most families prefer the conversion van when traveling long distances, while others which travel shorter distances prefer its spacious capacity and entertainment options. Regardless of which type of traveler you are, it's safe to say the conversion van is moving up the ranks of innovative traveling alternatives.
One of the largest reasons for this popularity towards such a niche vehicle might be the cost savings. Think about all those road trips you take with your family and friends; the cost of all of these things will add up quickly. New tweaks have made conversion vans an even more sought after product these days, and gas mileage is one of those tweaks. With the high gas prices, you want to get as many miles per gallon as possible. With conversion vans you can expect to get between seventeen and eighteen miles per gallon, which is great when driving on the highway or making an extended trip.
Conversion vans are no longer just a big box full of seats for passengers, or room for luggage; these vans have literally become as luxurious and comfortable as one of your favorite rooms in your home. Entertainment systems, such as televisions, video games and sound systems are now all options which are possible for a conversion van. The recent popularity of conversion vans has a lot to do with these features, which many travelers consider a necessity.
There is also a common misconception conversion vans aren't just for family vacations, these vans come in handy for everyday life as well. Parents prefer the conversion van as a traveling method because of the space allotment. Moms can take the entire soccer team to practice, while dad can take the basketball team on the road to their next tournament. The look of a conversion van can change without needing any type of manufacturing help as well. Let's face it. There is no better way to show team spirit than by covering your van in your favorite team's colors and logos.
Travel convenience has never been so stylish. With the extra room, entertainment options, and traveler necessities, this method of transportation has definitely become the preferred alternative. A conversion van allows its owners to take the show on the road, literally.