Conversion Vans - Luxury and Convenience on Four Wheels
Published Wednesday, 23 January, 2013 by Guest User. Categories: News.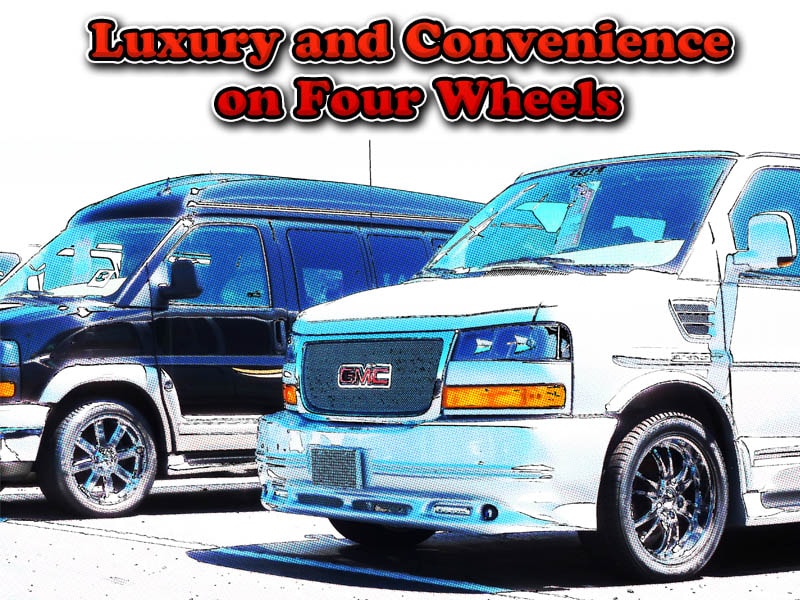 Drivers of a certain age might have vague memories of conversion vans with shag carpet interiors, captain's chairs and murals painted on the outside. Well, the conversion van has come a long way and is one of the most popular and versatile vehicles on the road today. With numerous options and configurations, not to mention spacious passenger and cargo room, comparable, if not better, gas mileage then larger SUVs, there is a van perfect for your needs.
What's the Difference?
So you are
in the market for a conversion van
and want to know what separates them from a mini-van and SUV. That is the easy part. If you are looking for passenger space and roominess, a conversion van is the way to go. The mini-van can be seen as the smaller, scaled down brother to the conversion van.
Only the largest of SUVs can compete with conversion vans on the basis of cargo and passenger capacity. For larger families, there are van models that can meet all your transport needs. You can find models that can be configured to hold from seven to 15 passengers. From taking the kids and their sports equipment to practice, or an extended road trip to see the country, a conversion van's versatility will serve you well.
And as for gas mileage, a conversion van gets better MPG when compared to some models of larger SUVs.
Choices, Choices and More Choices
Now that you've settled on purchasing a conversion van, the hard part (not really) begins... choosing from all the options you have available to you. From picking out the make (which can determine maximum number of passengers) to body style (high or low-top), you have a fun experience ahead as you customize your new vehicle. Don't forget the wide range of custom color choices and treatments that are open to as you work with your dealer to tailor your new conversion van to fit your tastes.
As for options, you have a wealth to choose from as you build the vehicle. In all actuality, there are
endless entertainment options for a conversion van
. Some of the most popular include heated seats and rear cabin televisions. From the purely cosmetic (trim and interior lighting styles) to the high-tech (cabin HDTVs, built-in videogame systems and USB charging stations), your van can have as much, or as little, luxury as you desire.
No Sticker Shock Here
You might think a conversion van is out of your price range just by reading about all the options available to you. Well, no worries then. A conversion van is similarly priced as a large SUV, but you get all the perks and benefits of owning a van at that price. That makes a conversion van one of the best deals on the road.
Your local conversion van dealer can help you with the entire process of picking out your new van. They can answer any questions you may have and are ready to help you enter the fun and luxurious world of conversion van ownership.