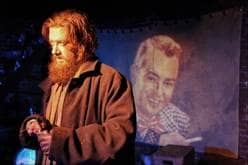 High school kids reading "The Glass Menagerie," by Tennessee Williams, would never picture it like this: the lead character, Tom Wingfield, transformed into a homeless man. What would make anyone go out on such a limb?
Try living in a
conversion van
for a while and see where your mind starts to wander.
Hans Fleichmann, an actor and director from Prospect Heights, didn't have many prospects back in 2011. Previously, he earned a scholarship...