Why the Roadtrek RS Adventurous?
Seats 2 to 6 and sleeps 2 to 4 in front single beds and rear twins or king size bed.

Maximum fuel economy, long service intervals, and great longevity.

Optional second row captains seats with arm rests for the ultimate passenger comfort.

Great traction control.

Spare tire easily stores underneath the vehicle.
Looking for a Class B Motorhome with a little creativity?

How about one that utilizes class Mercedes-Benz technology?
If both ingenuity and fantastic engineering is what meets your fancy, then the Roadtrek RS-Adventurous is the choice for you.
With great fuel economy, this Roadtrek model is safe, practical, comfortable, durable - and the list goes on.
Inside the Adventurous, you'll lay witness to what anyone would expect from a Class B motorhome along with a few unique surprises.  Rather than the second row seats converting into beds, instead take advantage of the option of additional captain's seats for even more comfort.  The second row seating also has the ability to swivel towards the back of the vehicle so you can enjoy a fantastic view of the television. Sleeping up front is possible thanks to optional folding mattresses which can easily be stored away.
Some of the great standard features included with this model range from it having tons of space to a permanent bathroom loaded with a vanity sink and shower.
For those looking for something a bit different than a standard Class B Van, then this is the Roadtrek for you.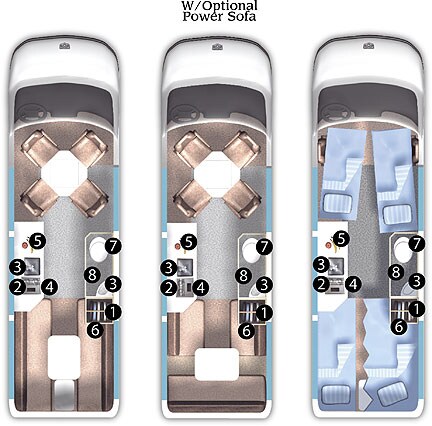 Floorplan Legend
1. Wardrobe
2. Stove
3. Sink
4. Fridge
5. Microwave
6. Home Theater
7. Toilet
8. Shower
If you're looking for more information about this great Roadtrek model, please don't hesitate to give us a call at 1-866-975-3287 and speak with a member of our team.