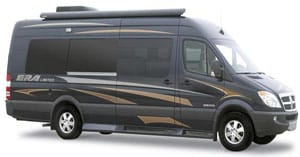 After the 2010 model year the Winnebago Era class b van was put on hold due to the changes in the federal diesel emission standards. Dave Arbogast Van Depot is happy to announce the Era is back for 2012.
In a press release from Winnebago the company stated, "We chose to evaluate how we could best enhance and improve the ERA before launching a new model year of product. With the 2011 Mercedes Sprinter Van we're able to produce the Era with better user functionality and enhance features, more storage and capacity and more value. A winning combination designed to generate more sales potential in the class b market place."
Before halting production the Winnebago Era was quickly becoming a customer favorite. After touring the 2012 Era I am confident the new model will not disappoint. Some new features include...