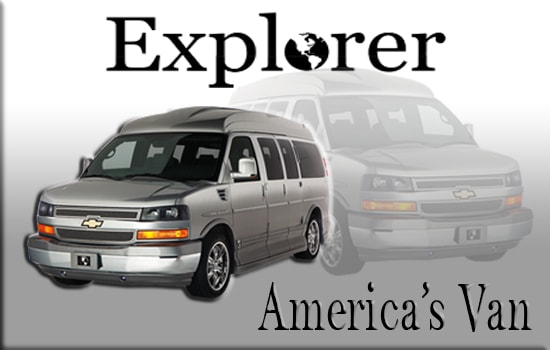 Are you a conversion van connoisseur? Or are you simply in the market to purchase your first conversion van? No matter what stage of the process you are in, you need to begin and end your search with Explorer Conversion Vans. Why, you ask? I will tell you why?
Explorer Van Company is not just in the market to make a conversion van. They have set out to produce the most exceptional conversion vans able to be found worldwide. They produce vans on the leading edge of innovation, safety, quality and style.
Explorer Conversion Vans
have more than you would ever dream of having in a vehicle.
Every van has a highly appointed leather interior with rear fold down bench seats and the remaining passenger seats as large captain's chairs. The standard conversion van is a seven passenger van, with nine and fifteen passenger models available also. In addition, Explorer offers custom vans for whatever need you may have. They produce custom vans for mobility needs, tailgating, dog showers, and as mobile offices. Regardless of what you need to get out of your van, Explorer can make it happen for you.
Inside find large LCD TV's, DVD players, wireless headphones, and auxiliary ports to use a favorite gaming system. Above find overhead storage for DVD's, games, and any other item you may need. Additionally overhead find indirect LED lighting for ambience and to be able to use while driving. The rear windows have pull down shades for blocking out the sun or privacy while sleeping.
Up font find a beautiful inlaid wood dash with a large display screen. Utilize navigation, satellite radio, rear back up camera display, and AM/FM/CD stereo. The driver and passenger captain's seats offer heat seats and lumbar support. You will also find a large center console with internal storage compartment, as well as numerous cup holders.
That is only the beginning of all that these unbelievable vans have to offer. They are truly a sight to be seen, and turn heads everywhere they go. Come in and feast your eyes on these vans for yourself at Dave Arbogast Van Depot. We are the largest conversion van dealer in the country.
Our inventory includes over sixty new and
used conversion vans
including dozens of Explorer Vans.  View our inventory online and read more. If you have any questions or would like any additional information, call (866) 975-3287, one of our conversion van experts would be happy to help you.
History of Explorer Van Company
Explorer Conversion Vans are the United states largest producer of custom vans. Located Warsaw Ind., Explorer has grown from a modest 1000 square foot warehouse to a state-or-the-art 250,000 square foot manufacturing facility. 
Family owned, Explorer Van Company employs more than 200 skilled craftsman to create the most sought after van in the industry.  Explorer lives by the philosophy, "We deliver more, not less, than we promise."  This can be seen in every aspect of their business, from the assembly line to their final product.