Why The Roadtrek 190 Popular?


Sometimes you just need to get away from it all.
It's been a long, tough week and now you're looking for a little relaxation.
If this is your dilemma, then the Roadtrek 190-Popular might just be your solution.
Built on the Chevrolet Express 3500 van, the first thing which will strike you about this great 
Class B Motorhome
model is the atmosphere the inside of it provides.
The 190-Popular is perfect for just you and that special someone or versatile enough to bring a few other passengers along for the ride as well. For added sleeping area, the vehicle's rear dinette or power sofa can easily adjust to become a king-size bed or into two comfortable twin beds. For those extra passengers, there are two forward facing seat-belts at the rear including two with the dinette and three with the sofa.
Some of the 190-Popular's great standard features include a full-length wardrobe, tons of storage, a loaded galley, and a front dining table. With such great features, you'll be pining to head out for that weekend get-a-way.
Also, if you feel like going above and beyond with your 190-Popular when it comes to the amenities - no problem. With the option to add everything from a flat screen TV to a hanging pantry, you can customize your vehicle to meet your exact needs.
If you're looking for a great
Roadtrek, then it's time to consider the 190-Popular.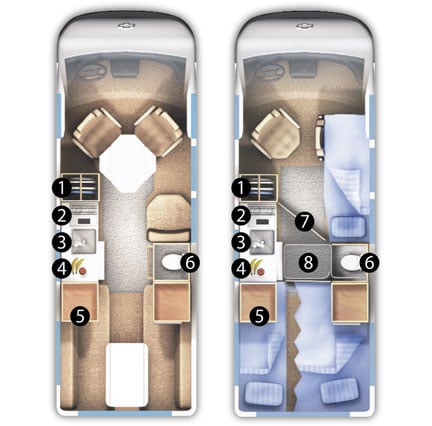 Floorplan Legend:
1. Wardrobe
2. Stove
3. Sink
4. Fridge/Microwave
5. TV/DVD
6. Toilet
7. Privacy Door
8. Shower

If you're looking for more information about this great Roadtrek model, please don't hesitate to give us a call at
1-866-975-3287
and speak with a member of our team.