Coachmen Beyond
Coachmen Beyond for Sale
Customers searching for the Coachmen Beyond can discover a great selection at Dave Arbogast in Troy, Ohio. Conveniently located near Dayton, our dealership carries a large selection of Class B RV, travel trailers, toy haulers, and fifth wheels. For immediate assistance, please do not hesitate to chat or call us at 888.436.3216.
Coachmen Beyond Review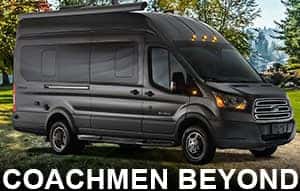 Today, shoppers searching for high quality Class B motorhomes often preferentially focus upon products carrying the Coachmen Beyond RV label. Owning one of these recreational vehicles allows customers to camp comfortably in campgrounds and RV parks nationwide.
Three brothers established Coachmen Industries in Indiana in 1964. The company earned acclaim for producing popular lines of recreational vehicles during the latter half of the Twentieth Century.
Today, the Coachmen Beyond RV label still denotes high quality lines of motorhomes, fifth wheels, and travel trailers. As a division of Forest River, Inc., its brands have developed a loyal following of satisfied customers.
About Coachmen Beyond RV Class B Motorhome Brands
Motorhome enthusiasts searching for high quality recreational vehicles often prefer to select a Class B motorhome. These versatile products offer the convenience and maneuverability of a camper van, coupled with the capability to stand upright inside.
Smaller than either Class A or Class C motorhome products, the Class B lines emphasize compactness coupled with comfort. The in-demand Coachmen Beyond for sale brands in this category join the Galleria and the recently developed Nova lines.
Discover three Beyond models: the Coachmen Beyond 22C, the Coachmen Beyond 22D, and the recently designed Coachmen Beyond 22RB. All share a basic Ford transit 350 HD automotive core.
Consider a Ford Transit Campervan
Why do careful recreational vehicle shoppers select the Beyond models of Ford transit campervan & Class B motorhomes? While these vehicles supply unique floorplans, they share several important features in common.
All of them use space efficiently without sacrificing amenities. They furnish a built-in bathroom and kitchen, plus a convenient wardrobe closet and a foldout bed.
In the enclosed front of the vehicle, bucket seats accommodate the driver and one passenger. Superb Ford automotive engineering contributes to the Beyond's dependability along the road.
Motorhomes in this line all utilize a 148-inch wheelbase (just over 12.3 feet). With a length of 22-feet 2-inches and a width of 7-feet, these vehicles fit easily into RV parking spaces and gas station lanes.
The 9-foot 11-inch height of the Beyond models ensures even tall individuals won't need to stoop inside the cabin. The 25 gallon fuel capacity assists owners visiting remote locales.
These vehicles supply two doors in the front, plus a motorhome entrance with a step directly behind the front passenger seat. Every model includes a 13-foot 1-inch awning to help create a covered outdoor recreational zone.
In both the 22C and the 22D models, a small enclosed 22-inch by 42-inch bathroom stands directly opposite the motorhome entrance. It offers a toilet, a sink, and showering facilities.
Both models also provide a food preparation galley with a two burner LP cook top (adjoining the entrance immediately to the left). Its location allows owners to transport food outdoors for picnics easily.
Carry along 30 gallons of fresh water. The motorhome holds up to 12 gallons of waste water.
Coachmen Beyond 22C Floorplan
The Beyond 22C floorplan pleases customers seeking a full sofa in the back of the vehicle. It adjoins a small removable table and two jump seats, a helpful feature for households desiring indoor dining capabilities.
Coachmen Beyond 22D Floorplan
By contrast, the Beyond 22D offers two 23-inch by 76-inch opposing sofas in the rear of the vehicle, located on either side of three removable tables. The folded bed rests compactly against the rear wall when not in use.
Coachmen Beyond 22RB Floorplan
The Beyond 22RB floorplan features a rear bath with a double twin bed configuration. The overhead cabinets provide an exceptional amount of storage space while the brilliant LED lighting illuminates the entire cabin.
Ford Coachmen Beyond Features
The Sync3 Infotainment system gives customers extensive tech and communications capabilities. A 2.8 KW gas generator, LED lighting, and a Truma/Combi furnace and water heater serve as standard features, also.
Every motorhome includes a 22-inch LED TV, a 6.0 cubic foot refrigerator by Nova Kool, plus an air conditioning unit.
Customers may request an available induction cooktop unit for the galley. Other popular available options: a Summit Bike Rack and improved coverings for the front windows.
The manufacturer offers several available automotive upgrades. These include an available 3.5 Liter ECOBoost engine and an available Li3 Lithium battery system.
Some interior trim accents include three glossy cabinetry selections. Select between Maple, Cherry, and White wood stains.
Coachmen Beyond Specifications
Wheelbase: 148″
GVWR: 10360 lb.
GCWR: 11200 lb.
GAWR Rear: 6720 lb.
GAWR Front: 4130 lb.
Fuel Capacity: 25 gal.
Exterior Length: 22′ 2″
Exterior Height: 9′ 11″
Exterior Width: 84″
Fresh Water: 30.00 gal.
Gray Water: 15.00 gal.
Black Water: 12.00 gal.
Awning Size: 13′ 1″
Find Out for Yourself
To conduct a personal Coachmen Beyond review and learn more about the exciting Ford Transit campervan models, simply call 888-436-3216. Customers may also visit our dealership in person just off Exit 69 along Interstate 75 in Troy.