Van of the Week: 2010 GMC Explorer Mobility Van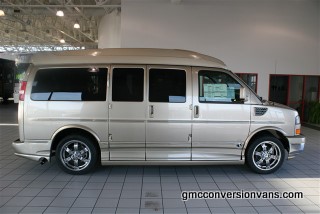 This week Arbogast is highlighting the 2010 GMC Explorer Mobility Van all-wheel-drive.  The van mixes functionality with premium entertainment and comfort.  The Explorer X-SE package includes 20″ chrome wheels, medallion series ground effects, a rear sunroof and a chrome mesh grill.
The driver and front passenger enjoy premium heated leather seats, a touch screen navigation system, and a Blaupunkt sound System.  Built into the navigation system is a rear view camera, enabling the driver too clearly see obstacles while in reverse.
What makes this van extremely unique is the top of the line Braun Vangater II wheelchair lift.  The Vangater's compact tri-fold platform, occupies minimal space inside the vehicle. You can open the doors and exit without deploying the lift.
The Vangater's platform offers 30″ of usable width, and 43″ of usable length. The lift is fully electric in operation, for both the fold/unfold and up/down cycles.

The rear passengers enjoy a state-of-the-art entertainment center with a 26″ Sony Bravia HD LCD TV and surround sound.  Other features include wireless headphones, accent opera lighting, rear climate control, and a three section power sliding sofa.
For more information or a verbal description of this mobility van please call 1-866-975-3287.