2017 GMC 4×4 Conversion Van Review Explorer Limited X-SE 7 Passenger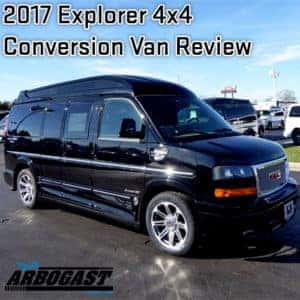 It has been over 3 years since GM discontinued All-Wheel Drive on the GMC Savana and Chevrolet Express Chassis. The all wheel drive option has always been a popular feature for Conversion Van buyers that travel in tougher terrains. Four-wheel drive is also helpful for traveling in inclement weather. Luckily Explorer Conversion Vans has developed a new 4×4 system specifically for the Savana and Express Van Chassis.
4×4 Conversion Vans by Explorer are a great alternative to a 4×4 SUV. This ride provides the 4×4 capabilities, but with all the comforts and luxuries of a conversion van. This 4×4 Conversion Van is a thing of beauty from the exterior paint to the plush leather seats.
At first glance, you notice the pleasing lines of the X-SE package. This van is complete with the Vista Sport Roof, full wrap-around ground effects, chrome Explorer logos and accented side vents. The Onyx Black Paint really shines in the sun, and the chrome exhaust tip adds the attention to detail that Explorer is known for. There are many options available that make each explorer van unique.
The interior of this van features black leather upholstery with gray piping and Black Burl Wood style dipped trim. This is a popular color combination that provides a classy style for customers wanting darker interior scheme. This conversion van provides seating for 7 passengers, and a 9-passenger option is also available with the 4×4 system. The 7 passenger model features 4 captains' chairs and a rear sofa that converts into a bed with the push of a button. The 9-passenger model features an extra row of captain's chairs in the middle section of the van, and the chassis is extended.
While riding in the rear of this 4×4 van, you immediately notice the flat screen tv and the kicking sound system with JBL Speakers. The Vista Sport Roof provides a futuristic look while allowing more natural light in the rear of the van. LED accent lighting provides subtle lighting while traveling during the evening. No matter where you choose to sit in this van, driver and passenger alike will have a wonderful experience.
I was excited to get behind the wheel of this new 4×4 Conversion Van from Explorer, and it certainly did not disappoint. Powered by a 6.0L V8, this van had no problem with the onramp to the interstate. The ride is very smooth, thanks to the Eaton Enhanced Soft Ride suspension system. Explorer worked with Eaton to engineer a better ride for their vans specifically, and this system is compatible with the 4×4 system – talk about the best of both worlds! The 4×4 system is easily operated with the turn of a dial, and should only be engaged when the vehicle is not moving. Once engaged, the vehicle is in full-time four-wheel drive. To disengage, just make sure the vehicle is stopped and turn the dial back to 2WD. It only takes a matter of seconds to engage and disengage the 4×4 system. It is very easy to use.
The Navigation system is helpful when traveling to unfamiliar destinations and Bluetooth connectivity makes hands free telephone conversations a breeze. The Back-up camera and parking sensors make backing up and parking simple, even in the tightest quarters. That's not generally easy in larger vehicles! Other features that make this conversion van great are the privacy shades that cover all the rear windows. These are great for sleeping over at rest areas or even the campground, anywhere you would need some extra privacy. Wireless headphones allow others in the vehicle to enjoy the rear entertainment without disturbing the driver, an excellent feature for families with children.
The 2017 4×4 Savana Conversion Van by Explorer is a great alternative to your everyday SUV. For those seeking a better level of luxury, or wanting more room in a vehicle while traveling this is a perfect choice. These are now available to test drive at Dave Arbogast Conversion Vans, if you have any questions about the 4×4 Conversion Vans by Explorer, don't hesitate to give our van specialists a call or contact us!