A Brief Look at the All-New 2014 Winnebago Era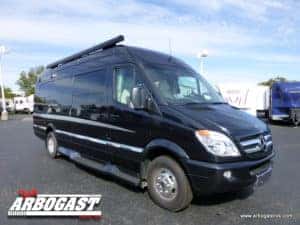 The quality of Winnebago Industries speaks for itself through their annual award winning vehicles, a record that none other can claim and have yet to beat. This holds true with the 2014 Winnebago Era Class B Motorhome.
As Class B fans continue to awe over this Winnebago flagship model, they're also discovering many of the amenities it displays go far beyond most Class B models.
The 2014 Era Class B utilizes ahe Mercedes-Benz Sprinter chassis. It has a Rand McNally GPS installed into it, with an Infotainment Center available to help with quality navigation. You can find LED ceiling lights, Ultraleather swivel seats, a granite countertop and more in this comfortable yet fuel-efficient Class B.
The interior of the motorhome has a comfortable sofa-bed in the lounge as well as swivel seats which face the large HDTV for a late night time of relaxing or midday entertainment. This vehicle was designed to provide space for lively chatter and games for an entertaining evening. The galley has some great amenities such as a fold-down faucet to conserve space, and an energy-saving fridge and microwave. Plenty of storage and a flip-up countertop help make the Era's kitchen ideal for those who like to cook a great meal while traveling. The bedroom comes with twin beds which can easily be converted into a queen size bed, and of course a sofa-bed in the lounge.
The cab of the motorhome can be compared to a Class A with the comfort and ease with which one can drive it. A touch screen control panel, a radio/rearview monitor system and a CD player make the front easy to lounge in as driver or shotgun rider. This vehicle has cruise control, power steering with tilt wheel, power doors and locks, 12-volt powerpoints and much more.
The exterior is just as convenient as the interior. With a powered patio awning which includes LED lighting, easy access to luggage with the 270 degree rear door openings, a slideout storage tray, and an exterior speaker system, travelers will be able to rest as easy on the outside as the inside.
The 2014 Winnebago Era is without a doubt a great update to the 2013 Era Class B. Without a doubt the 2014 Winnebago Era Class B Motorhome is quickly becoming an instant classic.