Does Ford Still Make Conversion Vans?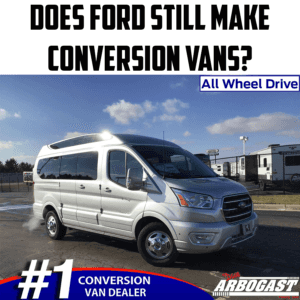 The short answer is yes. Ford does still make conversion vans.
The Ford Transit is one of the largest full-size vans manufactured in the U.S. The main reason being, they can be personalized to your exact specifications for style, versatility, and safety. There are several manufacturers and upfitters that still make Ford Conversion Vans. The Transit chassis has a sleek design, is highly functional, and is easily customizable. This van base has powerful acceleration, superior fuel economy, and a smooth, luxurious feel while driving or riding. Trim levels, lengths, heights, and even engine size are all options to choose from to customize the perfect conversion van for your needs. Ford Transit is the newer full-size van line, replacing the well-known and reliable, Econoline series. 
Explorer conversion vans are built on a Ford Transit chassis with a 7 and 9 passenger floorplan style, as well as a medium roof style. This allows for more headroom while maintaining the comfort of a traditional conversion van. Dave Arbogast has had a long-standing relationship with Explorer and always has them in stock. 
Another manufacturer that Dave Arbogast has had a healthy relationship with is Southern Comfort Conversions. While they no longer produce conversion vans, you can also order parts through Southern Comfort Conversions for your van as there are still many used ones on the market. Also worth mentioning, they are the parent company for FOX Factory, Inc. who builds SCA Performance lifted trucks, which you can find at Dave Arbogast. 
Customizers Conversions also has a line of Ford conversion vans. They build and customize for personal and commercial use. Customizers thoroughly test and guarantee every van is safe for anyone inside their vans. Each and every seat is tested due to their core belief that each seat performs differently. They try to closely replicate how the vehicle will handle in real-life scenarios. Every seat, in any layout they build, will be tested to the extent of their ability and they will not accept anything but passing with perfection. 
Majestic Mobility is located in Saginaw, MI, the founder's family is still very involved, even though this company has expanded considerably since 1976. They design and manufacture most of the major components in-house, which reduces the potential supplier delays. This also allows them to be more accommodating with the customer and their specifications. Dave Arbogast is proud to carry this caliber of conversion vans. 
Sherrod manufactures conversion vans on Ford Transit chassis. They boast about how easy this chassis is to customize. This Transit allows for things like swiveling mid-row seating, overhead storage, and removable tabletops to allow the flexibility you need in your conversion van. Luxury is not a word that is generally synonymous with conversion van but they have come a long way. Heated and cooled seats, TVs, and all the comforts you could want during your road trips. 
Waldoch Custom Vans feature a lineup of Ford conversions. Galaxy Vans, Landmark Vans – low and mid-top, Limo Vans, and of course Mobility Vans. The Galaxy and Landmark models are also available in AWD and can be built to your specifications. The Landmark series is often more affordable than most SUVs. However, these vans allow more versatility than an SUV because seating and layouts can be customized to suit your needs and wants.
There are still Ford conversion vans being made today. Many manufacturers build on the Ford Transit chassis for its versatility. It is easily customizable and has several options as far as all-wheel drive, trim, engine options, and more. While all conversion vans have their pros and cons, it appears that the Ford Transit is at the top of the game.