Happy Texas Conversion Van Customer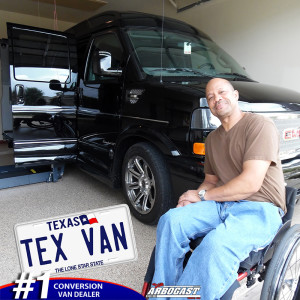 All the way from Texas! Morris worked with Larry Oaks to have his new 2016 GMC Explorer Conversion Van customized for his needs. This beautiful van features Onyx Black Paint, Hi-Top Vista Sport Roof, Slide Away Lift, Power Doors, Transfer Seat, and Hand Controls. Once customization was completed, we delivered this new van to his home in Texas! Thank you for writing and sending us a few photos! Enjoy your new van!
Morris wrote,
" Dear Larry,
It has been a wonderful privilege to have done business with you. This experience has been the best, as you have shown expertise and professionalism and even in your company. Thank you very, very much for coordination between myself and J. W. Devers. The photos that I am forwarding are provided as requested and reflect my pride, happiness, and honor.
Again, thank you from the bottom of my heart for being such a gentleman and businessman. Please express my sincerest appreciation to Dave Arbogast Management.
Best Regards,
Morris "
To see more of this mobility conversion van, watch the video walkthrough below!