High-Top Conversion Van High in the Rankings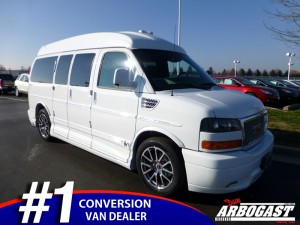 The right size vehicle can make a huge difference when it comes to road trips and family vacations.
Long hours in the van can pass with ease when passengers have adequate space and entertaining technology, especially when those passengers are the children and young adults in the family.
The 2013 GMC Conversion Van Explorer meets and exceeds the criteria that any active family would outline for themselves when they plan on engaging the adventure that waits out on the open road. This model of conversion vans is designed for utility and flexibility as well. It is not just the large family unit that will find it to be a pleasure. Anyone who is constantly on the go and in need of moving their belonging from on space to the next will find this van to be a blessing.
The world of conversion vans can often become bland and standardized to fit an overly commercialized market. However, the GMC Explorer is among the few vans that break the mold, making shopping for this class of vehicle a pleasure once more. The difference begins with the entertainment system. The surround sound system, DVD player, and 26-inch television is on par with the setup that many individuals have in their own home. While drivers may fear the sound of such an intense system, the integrated, wireless headphones allow the navigator to concentrate on safely reaching their destination.
Style is a another of the components that allows this GMC to stand tall in the market of conversion vans. From the ground up, the design catches the passing eye. Ground effects wrap around the underside of the entire vehicle, promoting visibility and unique styling. The van sits atop 20-inch chrome wheels that offer a stunning compliment to the mesh grill that is also composed of chrome. The icing on the cake is the two-toned paint that flawlessly blends towards the middle of the van's exterior.
When it comes to purchasing large vehicles such as conversions vans, one cannot ignore the efficiency factor. The GMC Explorer certainly has power. It features the 5.3-Liter, Vortec V-8 engine. This piece of engineering gives it the ability to put out 301 horsepower. This power is tempered by decent fuel efficiency for a vehicle of this size, however. The four-speed, automatic transmission is also renown for being reliable and durable. Many of the same designs that went into the Sierra and Silverado line of trucks have been adapted for this conversion van. The safety of the family is also taken very seriously. Among the most notable of the safety features strengthening this vehicle is GM's Stabilitrak engineering. A rear-backing camera, anti-lock disc brakes, and dual airbags also enter into the safety lineup