Jay Cutler : Conversion Van Owner and Chicago QB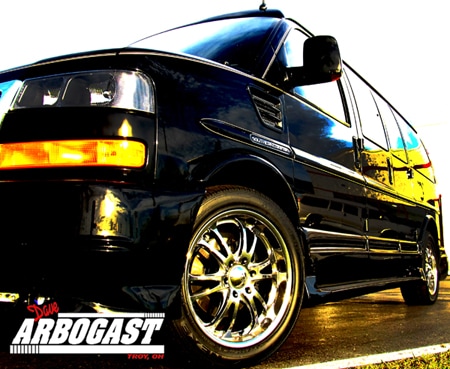 Chicago quarterback Jay Cutler makes more than $7.7 million being THE man for the Bears.
With NFL training camps finally underway, Cutler is proving that he is THE family man.
You think that the flashy signal-caller for the Bears would roll up into Bears camp in something stylish like a Mercedes Benz, Maserati or Tesla. But not Cutler. He's already proven to be a pretty good quarterback despite being a bit tempestuous and one who would ruffle feathers.
But if is new wheels are any indication, the former Denver Broncos quarterback is feeling all grown up.
On the eve of the Bears training camp opening, Cutler was spotted in a van. Not your typical mom soccer minivan, but a full-size conversion van. Cutler, who always seems to be a lightning rod with the media and fans, also displayed his love for some fans (feel the sarcasm?) with a decal on the back window.
The decal of a little boy urinating on the word "FANS" will surely not make some fans very happy. But then of course, has Cutler ever cared about making the fans happy? And, according to the Chicago Sun-Time, you don't want to refer to his van as a minivan. Cutler won't be too happy.
"It's not a minivan, it's a conversion van," Cutler told the Sun-Times. "There was one (car seat) in there this morning, I took it out."
Cutler is tooling around in this beast for a reason, perhaps. He is married to former reality television star Kristin Cavalarri and the Cutlers have two children. So perhaps they need the room, or will need more room and are planning for the future.
When the kids aren't in the Cutler van, maybe some of his Bears teammates can tag along for a ride. For one, running back Matt Forte is all down for cruising with Cutler. After seeing Cutler get out of the van, Forte tweeted: "I hope I can play some video games in it after practice."
Regardless, Bears fans are expecting a big year from the man who drives a conversion van. In the offseason, Cutler and the Bears agreed to a seven-year extension. With the entire offensive unit returning, and each offensive coach back for another year, Cutler should be able to take advantage of the familiarity players have with each other to have a solid year in a weak NFC North Division.
"It should be fun," Cutler told the Sun-Times. "We have a lot of guys back. A lot of consistency and rollover from last year. It's going to make things easier. Adjustments should [take] less time, getting into camp and getting rolling."
Those adjustments might be easier than taking a bunch of grief about driving a van.