Mercedes Camper Van Review: The Airstream Interstate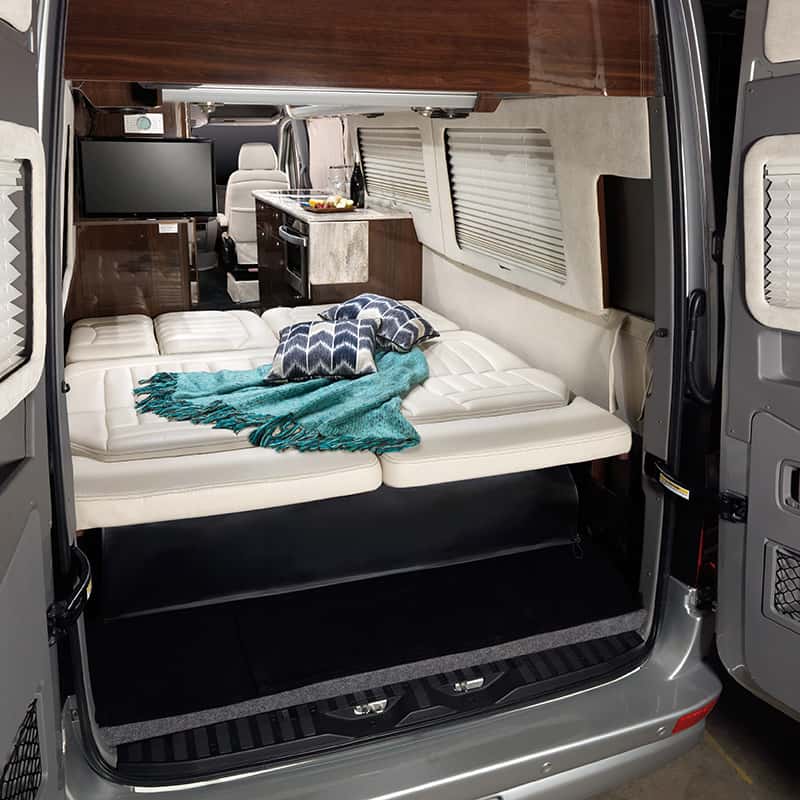 When the world leader in vehicle engineering collaborates with a company seen as the gold standard in recreational trailers, good things will happen. This is exactly what happened when Airstream utilized the Mercedes-Benz Sprinter class van chassis to form the the ultimate Mercedes Camper Van. As a Class B, 24 foot motor coach, the Interstate has combined luxury, utility, quality and beauty into the recreational vehicle market.
Powered by Mercedes
The Mercedes Sprinter chassis powers the Interstate effectively and efficiently. Its 3.0L diesel engine produces 188 hp and an incredible 325 ft/lbs. of torque. The power and torque produced are more than adequate for passing on the highway or climbing mountain roads. But despite its power, the Interstate can obtain 18 mpg on the highway. Compare the mileage figure to other motorhomes in its class and its efficiency becomes obvious.
Maneuverability is a key when choosing a recreational vehicle. When exploring the country, most want to travel the back roads and less congested areas. And with the Interstate, handling and maneuverability are what a person comes to expect from a Mercedes Camper Van. Despite its size, it is far easier to change lanes when passing or negotiating narrow and curving country roads. The heavy duty suspension provides a smooth ride with a minimal of bumping and jostling.
Mercedes Camper Van Designed by Airstream
Anyone entering an Airstream trailer recognizes its 80 year attention to detail, efficient use of space and the quality of materials to provide a top class, comfortable experience. The Interstate was created with those principles in mind.
With 11 different interior configurations, this Mercedes Camper Van comes standard with 4 captain chairs, a portable utility table, hot water heater, shower, toilet and an array of appliances. Seating fabrics are top quality and long lasting. The high gloss cabinetry and artificial stone countertop separate the Interstate from most recreational vehicles.
Seating can vary from 6 to 9 people, depending on the configuration. Power seats in the rear, expanding into a double bed, can be replaced with twin beds. Headroom throughout the Interstate is more than six feet. A Kenwood sound system and GPS navigational system come standard.
The Interstate is not limited to an RV park or commercial camp site. For those who are planning on more primitive surroundings, it comes with an LP generator that operates with the press of a button, immediately supplying the electrical needs of the vehicle, enough to operate the air conditioning, refrigerator and entertainment systems.
For storage of food, clothing and other camping necessities the Interstate provides 2 hidden rear storage compartments as standard equipment. A golf club storage area is available as an option.
For those who have experienced the comfort of the Airstream trailer but want to enjoy its amenities while traveling down the highway, this Mercedes Camper Van provides the best of both worlds. With the Airstream Interstate, the vacation begins when it pulls out of the driveway.