Roadtrek Camper Vans: Changing the way you travel!
Are you looking for something a little bigger than a Conversion Van? Do you need a vehicle for extended overnight travel?  Dave Arbogast Van Depot has the answer for you!
Roadtrek Camper Vans provide all the comfort of a larger RV or motorhome, with all the convenience of driving a van or SUV.  Whether you're going cross-country or just cross-town, why not take along all the comforts of home?  Enjoy the convenience of your own bathroom, change room, kitchen, living room and bedroom.  All with the fuel economy, driving and parking ease of a van or large crossover.  Discover why Roadtrek recreational vehicles are the number one selling class b motorhomes in the United States.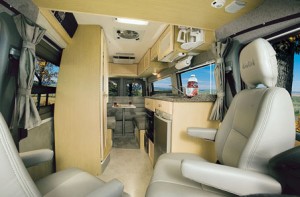 The look will grab you, the comfort will seduce you, just one drive will convince you – how enjoyable, effortless and economical the Roadtrek experience truly is! Feel free to view our inventory of New and Used Class B Camper Vans. Don't hesitate, call one of our Van Experts at 1-866-975-3287!