Say Hello to the All-New Winnebago Travato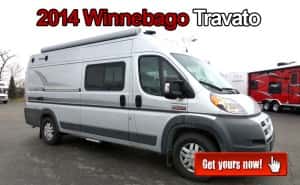 The Winnebago Travato is a Class B Motorhome that offers all the comforts of home in one streamlined package. You'll find technology in the living area and on the dashboard. You'll find power under the hood and power in the heat, air and water systems that ensure comfort.

Powerful
The Travato is built on an excellent RAM ProMaster chassis. The V6 engine is paired with a 6-speed automatic transmission. The 4-wheel ABS brakes help you maintain traction. Power steering helps you stay in control of even the sharpest turns. Cruise control makes it easier to relax on long trips. A 7-pin connector and a Trailer Hitch let you attach a trailer for your boat, jet ski, or other outdoor equipment.
Cab Smart
Since you spend a lot of time in the cabin, the Travato treats you right. You get a rear view monitor to take the stress out of reverse driving. For entertainment, you get a 5-inch LCD color touchscreen with modern apps and smartphone integration. The seats can slide, swivel and recline. There are armrests, side bolsters and adjustable headrests. Safety is assured through a blanket of airbags and extras like secondary turn signals. The side mirrors can be power-defrosted for better rear visibility.

Living Space
The spacious living area has a soft vinyl ceiling, tinted windows and MCD blackout roller shades. LED ceiling lights are power-smart. Technology is everywhere, including a CD/DVD player, a 22-inch HDTV, Bluetooth, and a Jack Digital TV antenna. You can manage everything with a Systems monitor panel. The bedroom features a large, comfy bed with mattress cover.

Kitchen and Bath
The galley features a microwave, a 2-burner range, and a refrigerator with a removable freezer unit. The laminated countertops are complimented by a stainless steel sink. Water filtration ensures healthier drinking water. The faucet folds away when not needed. In addition to a fire extinguisher, there are smoke and carbon monoxide detectors built in for safety. Bathroom fixtures include a wall-surround shower with a flexible shower head. Other items include a bath cabinet and 3-compartment soap dispenser. Kitchen and bathroom vents make it easy to clear the air.

Outdoor Living
The Travato invites you outdoors with its powered patio awning and LED lighting. An exterior speaker system and an exterior TV Jack bring entertainment outdoors. The automatic entrance step makes it easy to get in and out.
Heat, Air and Water
The Travato comes with a 110V water heater and an on-demand water pump. Stay cool with a 13,500 BTU High Efficiency Air Conditioning system. Stay warm with a 16,000 BTU furnace.
The Winnebago Travato is ready to take care of your family and friends in style.