The Airstream Autobahn is Here!!!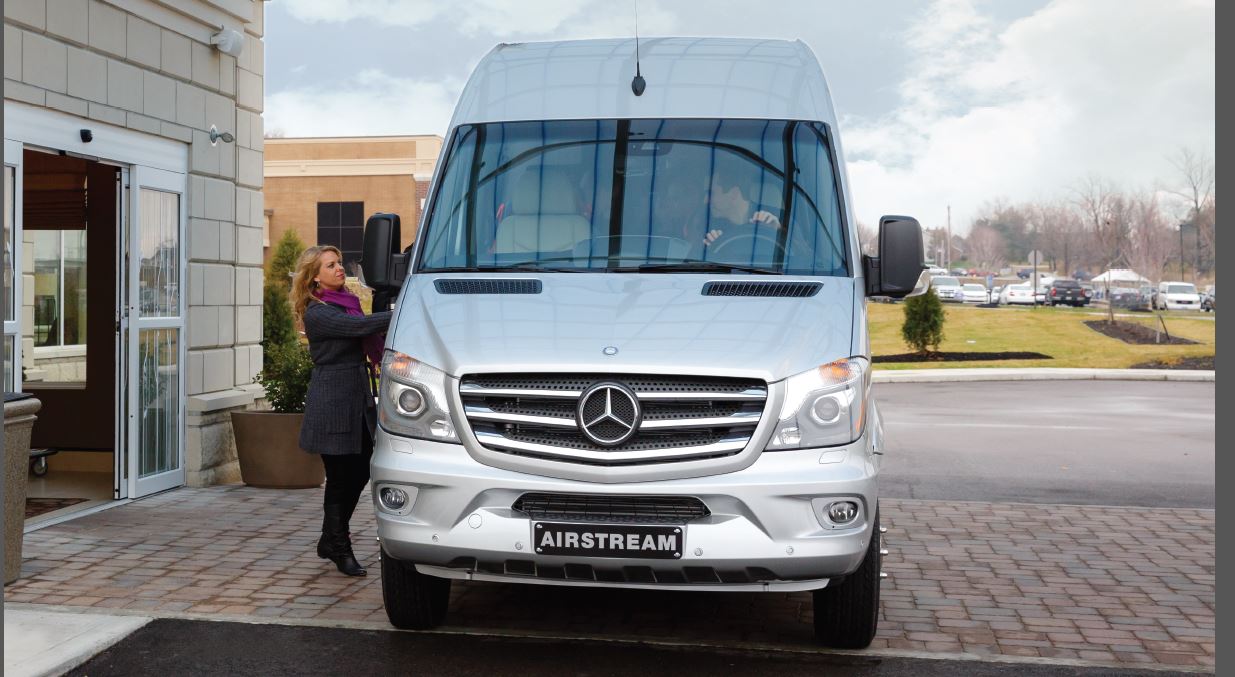 We're very excited to announce the all-new Airstream Autobahn Touring Coach is now available for sale at Dave Arbogast RV Depot.
With the ability to eat up to 8 passengers, this might be the most luxurious van we have on the lot. From premium leather seating and Airstream's signature interior decor, to a sleek exterior which is reminiscent of the brand's other flagship model the Airstream Interstate, this touring coach is quickly going to become a fan favorite.
From top to bottom this touring coach is comes loaded with luxury. Here's just a few of the many features it comes with.
Cockpit (Driver/Passenger Area)
– 2 UltraLeather Captains Seats – Heated, Adjustable Multi-Position, Swivel
– Driver/Passenger Multiple Air Bags
– Heated Windshield
– Power Windows & Door Locks
– In-Dash air Conditioning
– Tilt, Telescopic & Multifunction Steering Wheel
– AM/FM/CD/DVD/Navigation/WiFi Capable, 7″ Color w/Touch Screen, Rear Systems Controls, Built-in Amplifier & Bluetooth, Pandora Internet Radio Connectivity, Sirius Radio Tuner
– Glove Box Mounted iPod/IPhone Connection Cable
– Dash Trim Kit
– Floor Mats
– Front & Rear Window Defrosters
– Rearview Camera w/Rearview Mirror Monitor
Main Passenger Compartment (Each Individual Seat Location)
– 6 UltraLeather Captains Seats – Heated, Adjustable Multi-Position
– Retractable Table
– Corian Cup Holder
– LED Overhead Task Light with Dimmer
– Power Shades Control
– Air Flow Control
– USB Charging Outlet
– Head Phone Jack with Volume Control
– Integrated 3-Point Seat Belts
– 6-Way Power and Power Footrest
– Self Leveling Arm Rests
– Swivel Function (N/A in 2 Rear Seats)
– Integrated Head Rests
– Map Pockets on Seat Back
Interior
– Flush Mount Cabinet Doors
– Recessed Hardware
– Radius Overhead Doors
– Power Shades (Privacy & Sunscreen)
– Interior Ceiling Aluminum Finish w/Select Padded Areas
– Corian Surface with Integrated Cup Holders
– Magic Suede Sidewalls & Window Closeouts
– Synthetic Plank Style Flooring
– Rear Carpet Floor Mats for Individuals Seats
– Rear Cargo Trunk Mat Kit
– Rear Cargo Hidden Storage Compartment
– Cockpit Window Shade (Optional)
Exterior
– Exterior Body Kit
– Chrome Grill
– Fog Lamps
– Airstream Badging
– Autobahn Badging
– Tinted Glass (Except Cab Area)
– Power Entrance Step w/Step-Out Warning Buzzer
– Curbside Assist Handle
– Alcoa Dura-Brite Forged Aluminum Wheels
– Power Awning with Adjustable LED Lights (Optional)
– Solar Panel (Optional)
Electronics/Entertainment
– Central Electronics Control (multiplex system with router)
– Smart Device Enhanced (system can be operated by smart devices, touch pads and computers with wireless capabilities)
– 32″ Inch LED LCD HDTV
– Apple TV Box with Air Play Functionality
– Blu-Ray Player
– Previewed for Gaming Stations/Systems, TV Antenna HDMI Connections, Roof Mounted Satellite Dish/Receiver HDMI Connections, HDMI Connection for Portable Satellite Systems or Cable Service, Solar Panel.