Understanding the Difference Between a Conversion Van and Class B Motor Home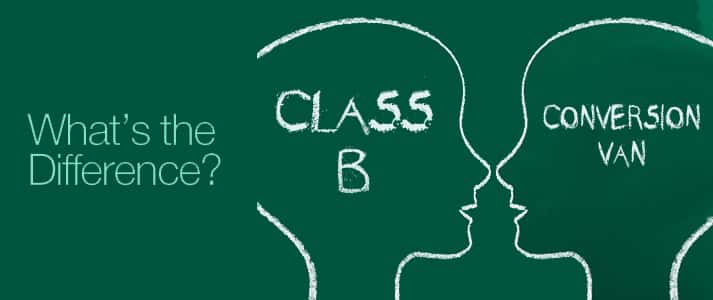 Conversion vans and class B motor homes can be almost indistinguishable at a glance. Both vehicles are small enough to fit comfortably in a standard driveway. They are a little bigger than a standard panel van and tend to have extensions that raise the interior ceiling so that a person can comfortably stand inside. Conversion vans and class B motor homes can also be used as vacation vehicles because they are fitted out with comforts that are not found in typical daily-drivers. The vehicles might share a few similarities, but the differences are important to understand if you are looking for a smaller travel vehicle.
Structural Differences
Both conversion vans and class B motor homes begin with a typically-sized van frame. The conversion van is constructed as a regular transport van with a more luxurious interior. The class B motor home is constructed specifically as a recreational vehicle (RV). Conversion van interiors might include bench seats that can be folded into beds, captain's chairs that swivel, or even small tables that can fold down when needed. A class B motor home is basically a van-sized RV, with a small kitchen, sleeping area, and sometimes a small bathroom. The motor homes may also include a small curtain that separates the living area from the driving area.
Technology
Conversion vans are not designed specifically for camping. The van might include a plug to connect to an external electrical source, but more often the conversion van is not equipped to hook up to typical RV campsite amenities. Class B motor homes, on the other hand, include electrical and plumbing connections similar to those found on larger RV campers. Most conversion vans do not include separate cooling and heating elements for the passenger area, while class B motor homes generally have a climate control unit in the rear.

Different Types of Use
Since conversion vans are merely stock vans that have modified interiors, they can be used the same way a stock van would be used in daily traffic. Class B motor homes are easier to drive and park than their larger RV camper cousins, but they are not really designed to be driven as commuter or city vehicles. Both the van and the RV can be stored in a single-car driveway, but it makes more sense to use the van for a quick run to the grocery store. The motor home's purpose is to provide a comfortable mobile home for overnight camping trips or vacations.