Your Trusted Handicap Van Dealership
Mobility vans that fit your exact needs are difficult to come by these days. You may need a van for more than one wheelchair, seats that can lift and rotate with the push of a button, or hand controls for driving. At Dave Arbogast, we are your best solution for all your mobility van needs.
Mobility Van Experts
We have been fitting vans with customized wheelchair accessibility and handicap needs for years. Our van experts are knowledgeable in helping you and your loved ones create the vehicle that fits and exceeds all of your needs. Read our customer review of his Mobility van.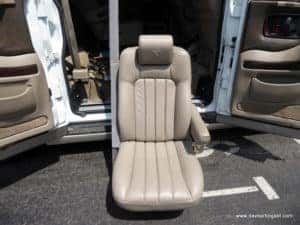 Wheelchair lifts are easy to use and take up minimal space
Handy captian chair controls to help exiting and entering your wheelchair
Locking mechanisms hold your wheelchair in place
Custom chair layouts to fit your seating or storage needs
Hand controlled braking and acceleration
Companion seats [pictured]
Raised doors for 10 more inches of clearance
And more!
Custom Orders
Our handicap friendly vans can be ordered to fit your needs. We have an amazing relationship with a local body shop that specializes in custom mobility vans. Not only can we get unbeatable pricing on specialized builds, but also completed in a timely and high-quality manner. We will work with you to find out exactly what your van needs to suit you perfectly. Learn more about wheelchair lift options here.
Watch this Mobility Sprinter Van Conversion Walk-through
Service
Any custom vehicle and accessory comes with it's own issues and service needs. And since these are specialized additions, not just any place can help fix them. We have an incredible parts department for GM vehicles and a friendly and knowledgeable service department, and the mobility and handicap features are handled by a local body shop that we have a special relationship with. We work with them closely on a regular basis and know that their work exceeds our expectations as well.
If you have any questions about mobility vans or handicap features, please call at 888-436-3216 and talk to our van experts right now.
Take a look at our current Mobility van selection.